Rollator Compact, lightweight and the smallest foldable rollator
The rollator Compact, double folding, so very easy to carry along. This rollator is made of aluminium, ✔️verg lightweight: only 8,1 kg ✔️Brake cables are mostly integrated in the frame✔️ several colors ✔️double fold
Delivery time
1 to 2 working days
Rollator Compact, lightweight and the smallest foldable rollator
The rollator Compact from Mobinova, small to fold so easy to carry along. Fits in any car!
This 'Compact' rollator can be folded down into a very compact package: first fold the sides towards each other, then lift up the rear wheels.
This feature is exclusive for the Compact, definately not found on any competing brands!
The frame is made of aluminum making it a lightweight stroller and easy to handle.
Both handgrips are made of soft material and feel very comfortable.
The brake handles are oval shaped and lead to the rear wheels. The brake cables are partly integrated within the frame, because of that you do not need to fear to get caught on anything while walking.
By squeezing the handles, the brake is activated, you can also use the handles to lock the brake, just put the handles down and it gets into a parking position.
The brake handles as well as the front wheels have red reflectors, making you more visable in the dark.
Folding the Compact rollator
A strap in the middle of the seat makes you fold down the Compact, by pulling it you make this rollator fold easily and diminish its width size.
The second step is to unlock the hinges for the rear 'legs' by pushing the red plastic button into the direction of the wheel.
Just bend the rear 'legs' upward and, as a result you are left with a small package of only 66*29*37 cm.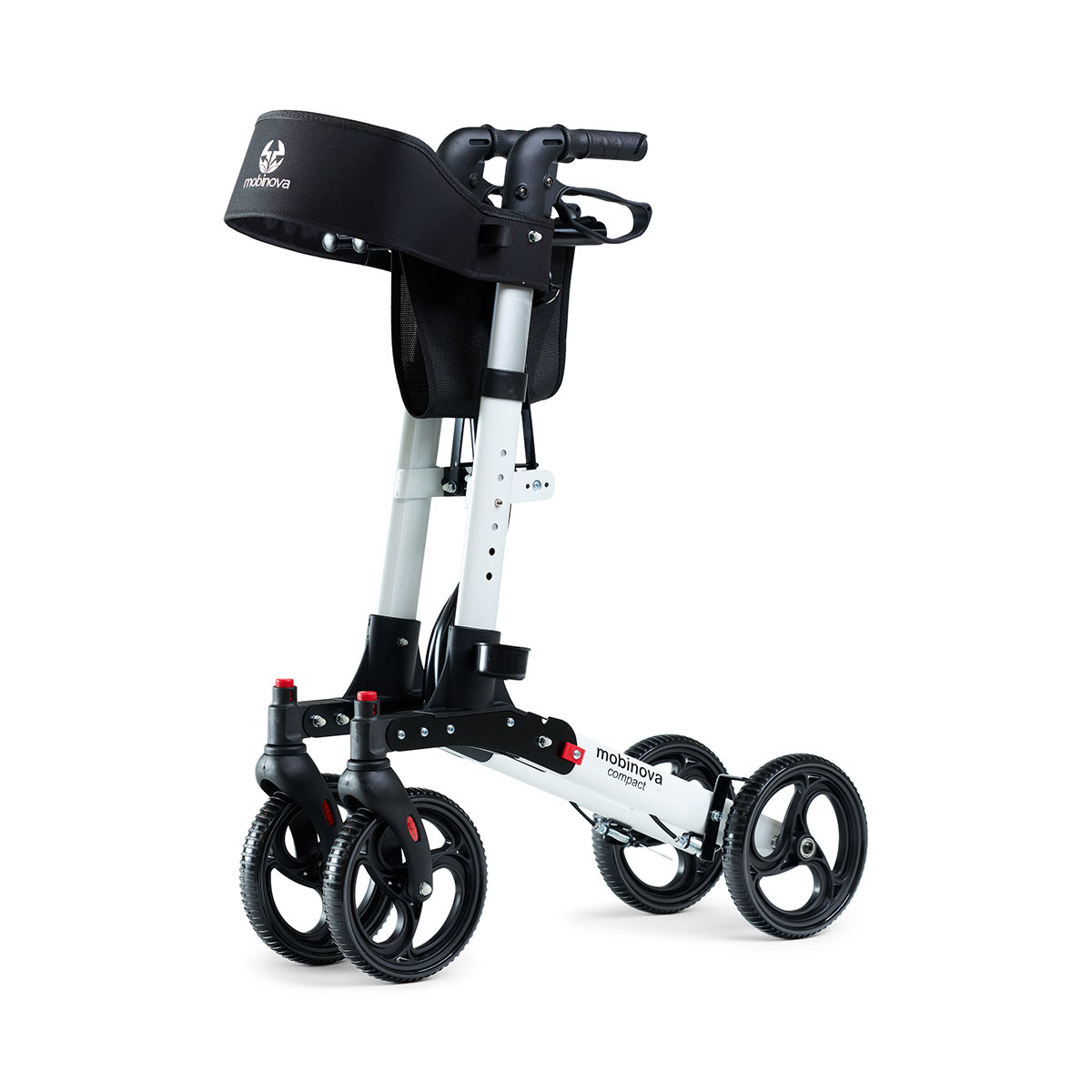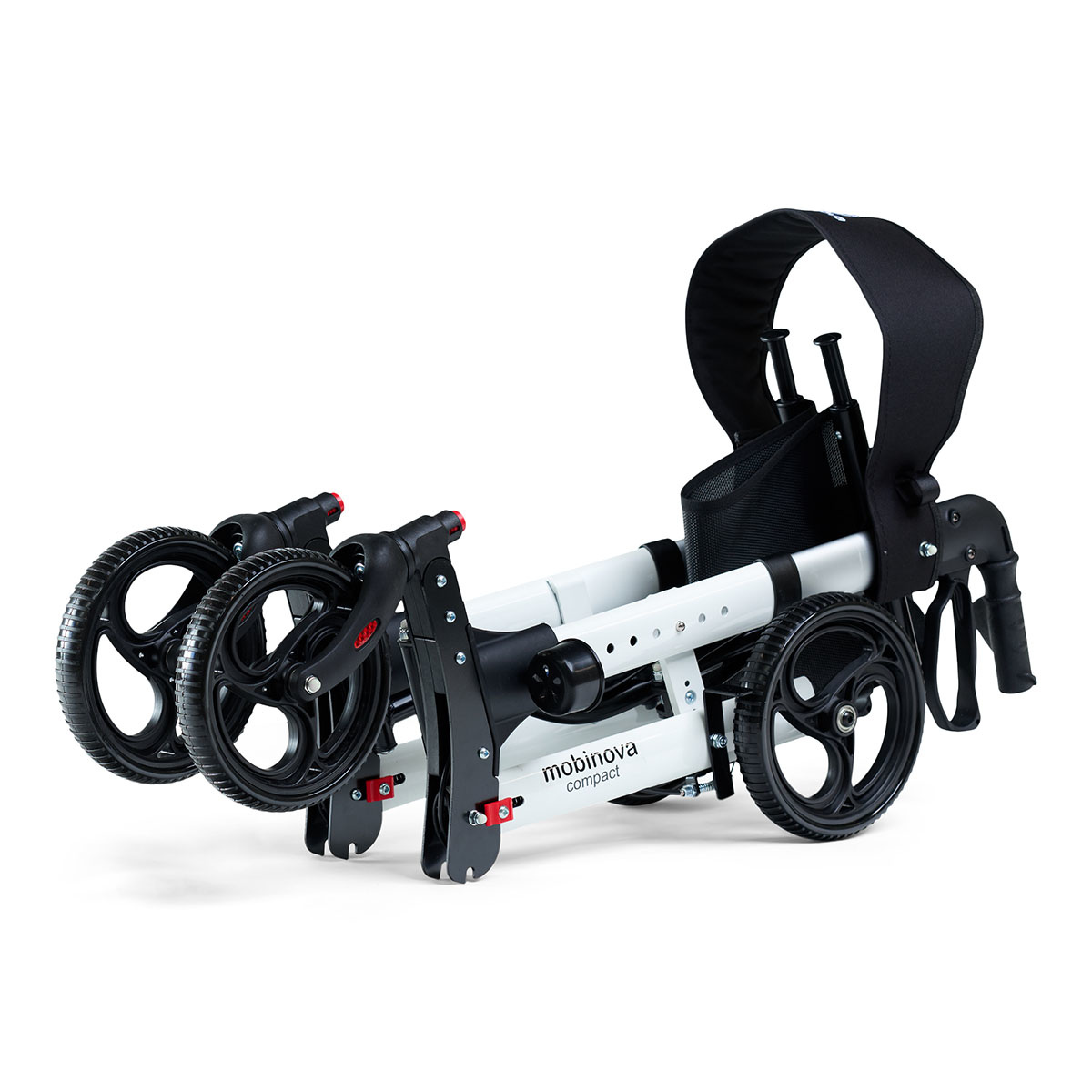 folded 1x, sides only           folded twice
Furthermore, the seat has a backrest allowing you to sit down if you are tired or have to wait for a while.
On the seat you can also place a serving plate. It is handy to place a drink or food on it if you use the rollator indoors and walk from kitchen to living room.
Both handgrips are adjustable in height (from 79 to 92 cm) by pushing the little buttons on the sides. With 6 positions they can be adjusted for shorter and taller people.
The 8" wheels are made of PU, so a minimum of tear and wear and therefore securing a comfortale ride. The minimal profile on the wheels makes them easy to clean.
Luggage bag for the rollator Compact
The bag at the front can be used for groceries and can be detached simply. This sturdy bag is made of nylon canvas, not a weak mesh net as you find on most rollators.
Cane holder for the Compact rollator
A cane holder is already attached at the left side of the Compact rollator. Makes you take along your cane or walking stick without fuss. No extra investment needed, it comes with the rollator as standard.
Accessories for the Compact:
To compare, but better than:
Active rollator (€ 219,-)
Rehasense Server rollator (€ 299,-)
Gemino 30 rollator (€ 260,-)
Drive Rollator Nitro (€ 185,-)
WheelzAhead Track 4.0. (€ 273,-)
Topro Troja 2G Standard (€ 319,-)
Kaigo One Rollator (€ 199,-)
Rollz Flex (€ 387,-)
Rollator Topro Troja 2G (€ 398,-)
Topro Troja Oddesy Rollator (€ 468,-)
This rollator Compact is an exclusive model designed by Mobinova.
Specifications
dimension packed l*w*h:
66*29*37 cm
dimension in use l*b*h:
73*66*79-92 cm
foldable:
yes, in width and length, very small
dimension as folded l*b*h:
66*29*37 cm
frame color:
several colors
brake:
on both rear wheels

5

stars based on

3

reviews
harmke jongman
06-01-2019

De voordelen komen ook echt naar boven als je hem in de kofferbak legt. Wat een oplichting bij de oude rollator

Wij hebben het goed ontvangen. Mijn moeder is blij met deze rollator. En goed gekeurd door haar therapeut.
Kreeg het eerder dan verwacht. Helemaal top.

Rollator compact besteld voor oma. Makkelijk en goed opvouwbaar, hierdoor past hij gemakkelijk in de kofferbak van de auto. Fijn advies en snelle levering, niets op aan te merken. Bedankt!
5

stars based on

3

reviews