Rollator Dual, can also be used as a push chair, also called transport chair. Foldable
This rollator Dual is a stylish and modern rollator, easy to fold down into a small package.
✔️can also be used as a (push) wheelchair. ✔️Weight only 8,9 kg ✔️Cane holder and shopping bag included ✔️Now special offer
Delivery time
look at our delivery times for different countries
Rollator Dual, can also be used as a push chair, also called transport chair. Foldable
The rollator Dual, can also be used as a (push) wheelchair, small to fold
This 'Dual' rollator is easy to handle, small to fold and due to the aluminum frame still weighs only 8,9 kg.
By placing the 2 foot rests on the front, the Dual can be used as a wheelchair to be pushed by another person. The feet rests are included.
Both footrests can be clicked on and locked at the sides, but you can remove them too. Simply click them on again and the wheelchair option is activated again.
It can be folded into a small package, just pull the strap in the middle of the seat and the Dual folds down both sides together.
For making it even smaller, the next step is to take off the front wheels and the rear wheels and you will be left with an easy to handle package.
Both handgrips are made of soft material and therefore feel very comfortable. The brake handles are oval and lead to the rear wheels. Pushing the handles down activates the parking brake.
The handgrips are adjustable in height (from 84 to 97 cm) by pushing the little buttons on the sides. With 6 positions they can be adjusted for shorter and taller people.
The handgrips as well as the front wheels have red reflectors, making you also visable in the dark.
Of course, you can not compare this rollator with a real wheelchair, but for short distances this is a perfect solution.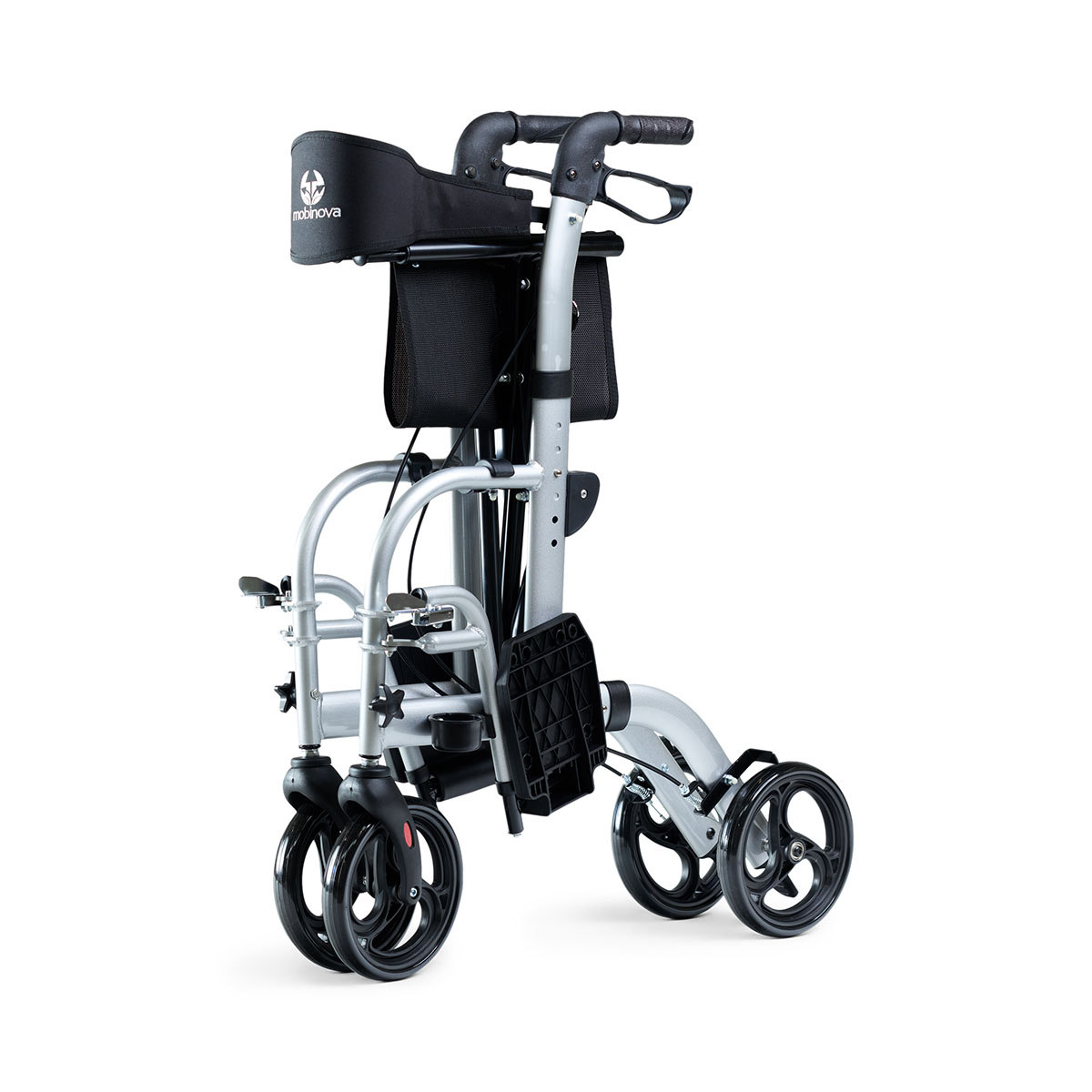 Rollator Dual 1x folded (in width)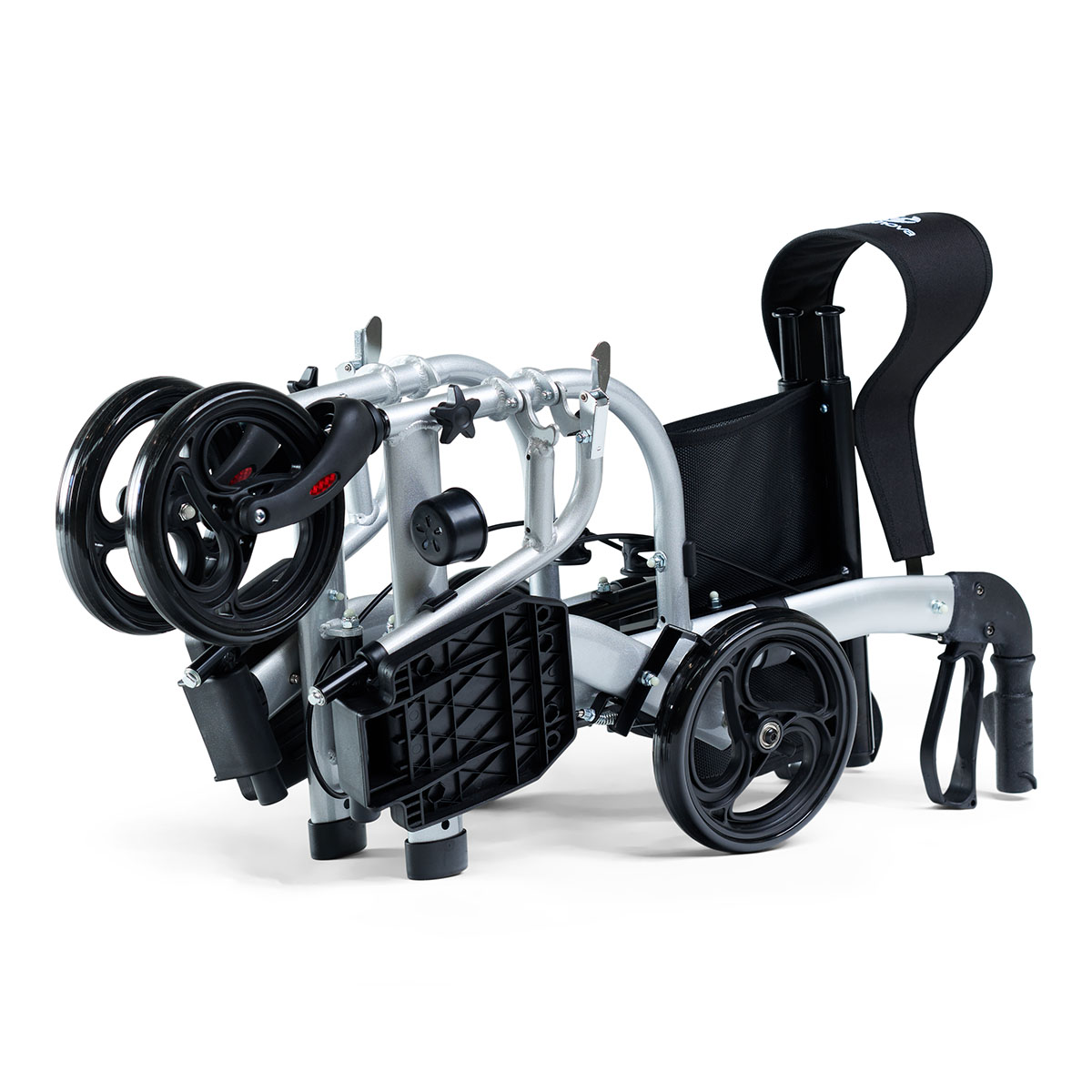 Rollator Dual 2x folded (smallest possible)
Wheels of the rollator
The 8″ wheels are made of PU, so a minimum of tear and wear hence securing a comfortale ride. The minimal profile on the wheels makes them easy to clean.
Both front wheels have red reflectors, hence you are more visable when it is dark.
Seat of the Dual
Furthermore the seat has a backrest allowing you to sit down if you are tired or have to wait for a while. Just bend the back rest to the backward or forward position and you can sit at the back or the front.
On the seat you can also place a serving plate. It is handy to place a drink or food on it if you use the rollator indoors and walk from kitchen to living room.
Shopping bag on the Dual
The shopping bag at the front can be used for small items and can be detached simply. It is large enough for small groceries.
Cane holder on the Dual
A cane holder is attached to the left side of the Dual rollator. Makes it easy for you to take along your cane or walking stick without fuss.
Accessories for the rollator Dual:
To compare with, but better than:
Airgo Fusion, Rollz Motion, Barend
Some of these brands/models are much more expensive than the Mobinova Dual, but fold only horizontally. The Dual can be folded even much smaller in a second step of folding!
This rollator Dual is an exclusive model, designed by Mobinova.
Specifications
dimension packed l*w*h:
64*45*29 cm
dimension in use l*b*h:
100*64*84-97 cm
dimension as folded l*b*h:
70*35*84 cm
frame color:
silver, dark grey
brake:
2x handbrake and parkingbrake
foot support:
2x also click on the sides or remove
video:
https://www.youtube.com/watch?v=O3qQcz-Wo8Y
5

stars based on

1

reviews
Enkele rollators uitgetest maar deze blinkt uit prima makkelijk opvouwbaar solide loopt heerlijk fijn om mee te nemen,klein pakje .top
5

stars based on

1

reviews