Compact 2.0 allround rollator for indoor and outdoor
Rollator Compact 2.0: smallest rollator when folded, easy to take along. Lightweight frame in 3 colors, lightweight 9,5 kg Brake cables hidden inside frame. Fast delivery
Delivery time
1 to 2 working days
Compact 2.0 allround rollator for indoor and outdoor
The Mobinova Compact 2.0 rollator: quick, simple and easy to fold, lightweight, free bag and serving tray
Double fold, therefore a small package when folded, easy to carry along, Fits in any car!
Free shipping in Netherlands and Belgium.
Main specifics:
Easy folding sides in width
Extra small after double fold
No visible brake cables:nicely hidden inside the frame
Free shopping bag
Free serving tray
Lightweight aluminum frame (<9 kg)
Hand grips easy height adjustable (also for taller users)
Large wheels (10 Inch)
The Mobinova Compact can be folded down into a very compact package: first fold the sides towards each other, then lift up the rear wheels.
This feature is exclusive for the Compact, definitely not found on any competing brands!
The frame is made of aluminum making it a lightweight stroller and easy to handle.
Both ergonomic an anatomical shaped hand grips are made of soft material and feel very comfortable.
The brake handles are oval shaped and lead to the rear wheels. The brake cables are mainly integrated within the frame, because of that you do not need to fear to get caught on anything while walking.
By squeezing the handles, the brake is activated, you can also use the handles to lock the brake, just put the handles down and it gets into a parking position.
The brake handles as well as the front wheels have red reflectors, making you more visible in the dark.
Folding the Compact 2.0 rollator
A strap in the middle of the seat makes you fold down the Compact 2.0, by pulling it you make this rollator fold easily and diminish its width size.
The second step is to unlock the hinges for the rear 'legs' by pushing the red plastic button into the direction of the wheel.
Just bend the rear 'legs' upward (after releasing the  sliders to unlock) and, as a result you are left with a small package of only 65*32*41cm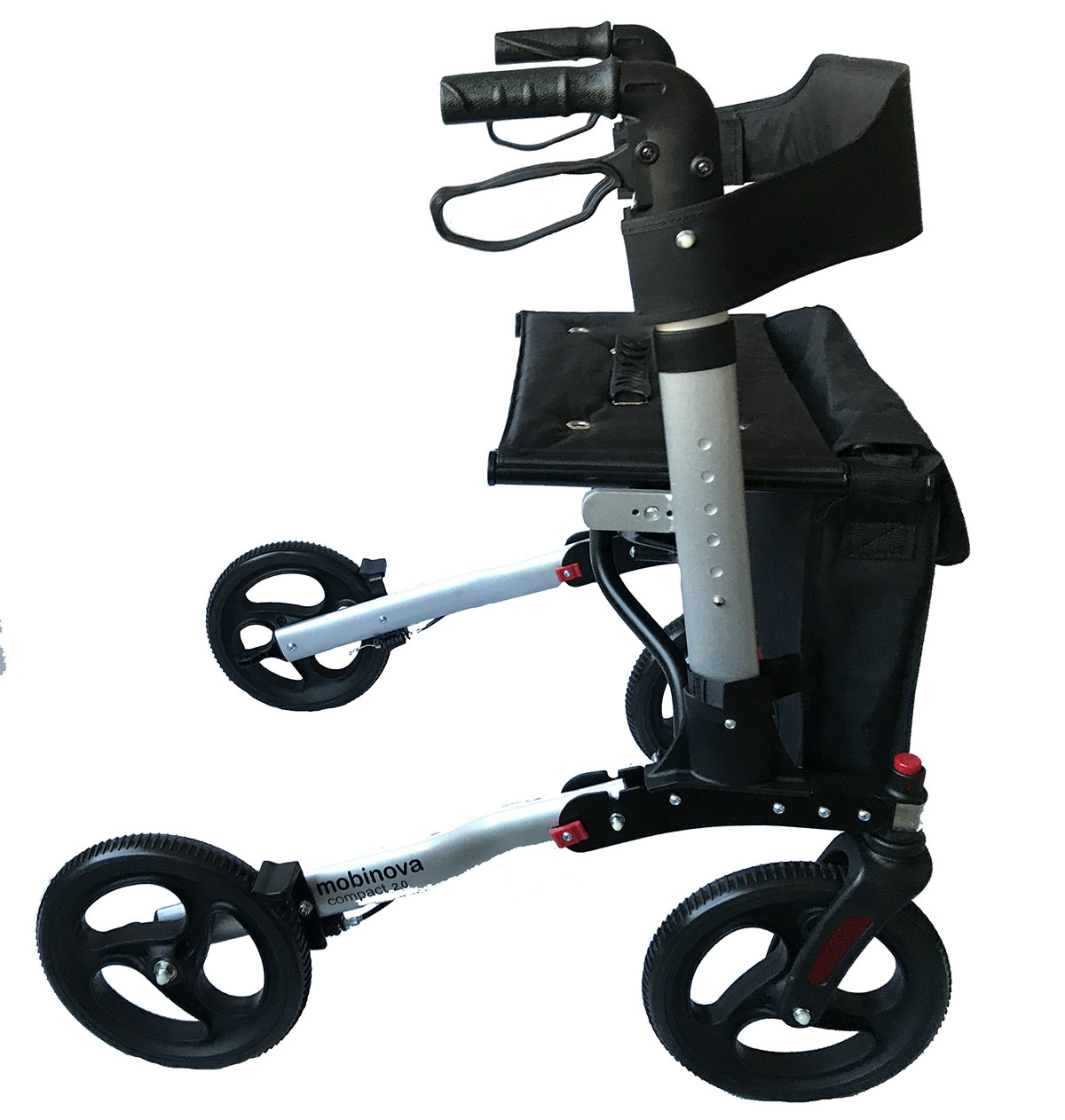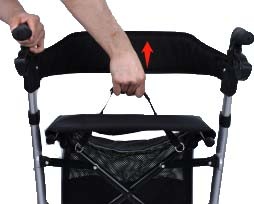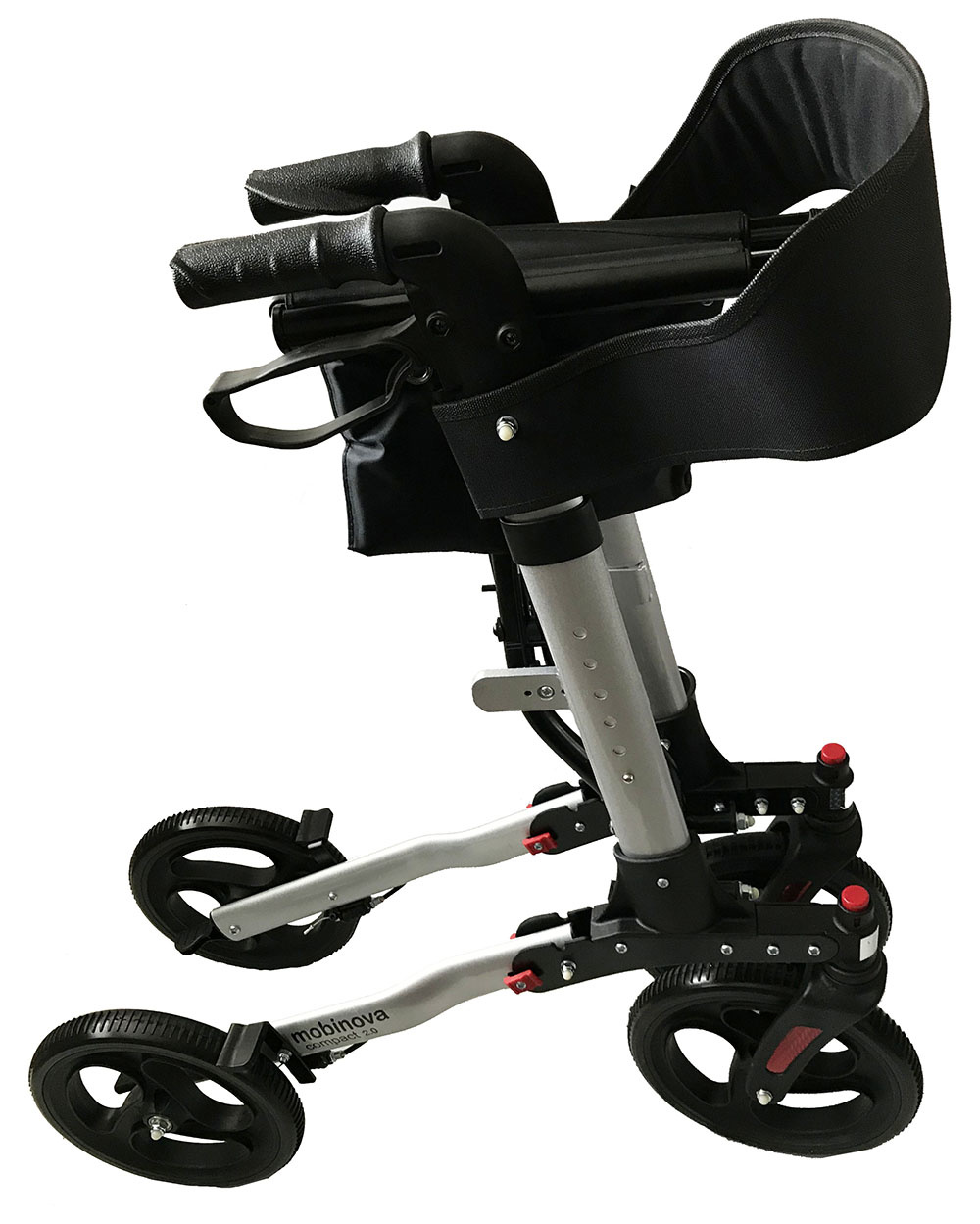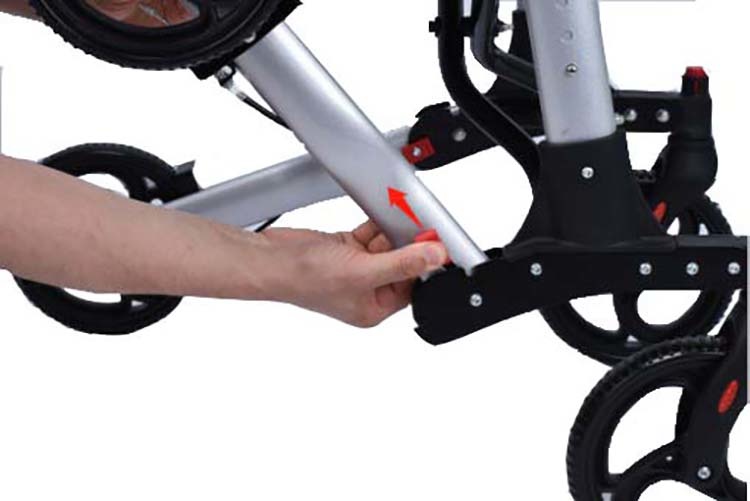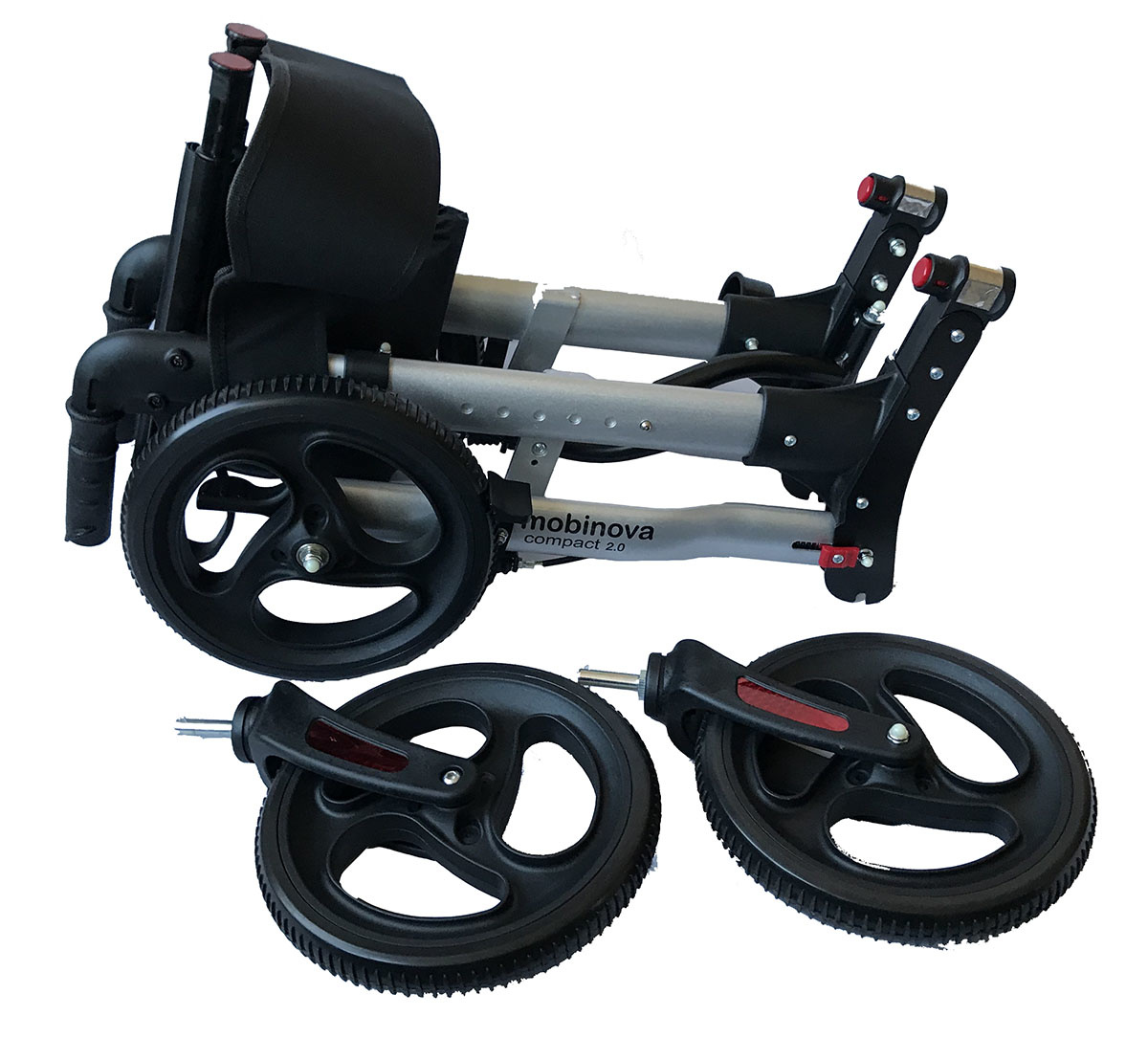 Furthermore, the seat includes a backrest allowing you to sit down if you are tired or have to wait for a while.
On the seat you can place the included serving plate. Very handy to place a drink or food on it if you use the rollator indoors and walk from kitchen to living room.
Both ergonomic and anatomic shaped hand grips are adjustable in height (from 89 to 102 cm) by pushing the little buttons on the sides. With 6 positions they can be adjusted for shorter and taller people.
The 10" wheels are made of PVC, with a PU cover, so a minimum of tear and wear and therefore securing a comfortable ride. The minimal profile on the wheels makes them easy to clean.
Shopping bag for the rollator Compact 2.0
The bag at the front can be used for groceries and can be detached simply. This sturdy bag is made of nylon canvas, not a weak mesh net as you find on most rollators. Inside are 3 small pouches to store a smartphone, keys and wallet.
Cane holder for the Compact 2.0 rollator
A cane holder is already attached at the left side of the Compact rollator. Makes you take along your cane or walking stick without fuss. No extra investment needed, it comes with the rollator as standard.
Accessories for the Compact 2.0:
To compare, but better than:
Active rollator (€ 219,-) (no double fold)
Rehasense Server rollator (€ 299,-)  (back support +28,-  tray +30,- bag +40,-)
Gemino 30 rollator (€ 269,-) (back support +69,-  tray +35,- bag +34,- loose cables)
WheelzAhead Track 4.0. (€ 268,-/299,-) (tray +25,-)
Topro Troja 2G Standaard (€ 319,-) (tray +35,- cane holder +30,- loose cables)
Kaigo One Rollator (€ 159,-) (no double fold, bag +40,-)
Multimotion Double (€ 179,-) (no tray, loose cables)
Rollz Flex rollator (€ 399,-)
Topro Troja Odesse Rollator (€ 439,-)
This rollator Compact 2.0 is an exclusive model designed by Mobinova.
This 'Compact 2.0' rollator  replaces the Compact as sold until september 2019
The main differences, compared to the  previous model are:
We have increased the height of the frame, making the Compact 2.0 better fitting, also  for taller people like us Duchies or other North-European people.
The front and rear wheels are slightly larger (10 Inch instead of 8 Inch). This makes the rollator drive even more smoother and obstacles can be taken easier.
All wheels now have a soft PU cover, it absorbs vibrations.
The height of the hand grips can still be adjusted in 6 positions, but due the larger wheels and higher frame the height can now be set from 86 to 100 cm. 
The rear wheel forks/legs have a light z-shape, making folding of the legs even easier and not causing scratches on other parts of the frame.
The handles on the bag to attach it to the front of the seat are wider, securing the bag better.
The shopping bag has on the inside 3 small pouches to store  a cell phone, wallet and keys.
Standard a serving tray comes with the Compact 2.0. You can use it on top of the seat. The 4 small feet under the tray slide into the 4 holes of the seat.
This tray is not meant to be used on flat surfaces like a table or kitchen sink.
Specifications
dimension packed l*w*h:
65*32*41 cm
dimension in use l*b*h:
80*69*86-100 cm
foldable:
yes, in width and length, very small
dimension as folded l*b*h:
65*31*41 cm
frame color:
several colors
height hand grips:
86 to 100 cm
distance between handgrips:
50 cm
wheels, front:
2x 10" PVC, PU running surface (ribs)
wheels, rear:
2x 10" PVC, PU running surface (ribs)
brake:
on rear wheels, also parking brake
shopping bag:
included, detachable
including:
serving tray, bag, cane holder
video:
https://www.youtube.com/watch?v=GbJVPHtX2O8

4.85

stars based on

7

reviews

Je kan hem heel makkelijk opvouwen en in een kleine auto kwijt, maar als de stoep schuin is moet je constant bij sturen daar word ik zo moe van. Is dat op te lossen? want verder vind ik hem super

prima rollator, exact zoals beschreven en op foto's, snel geleverd

Prima rollator, compleet en gemakkelijk in gebruik. Past ook in onze kleinere auto. Kunnen we iedereen aanraden. Werd na 1 dag al bezorgd.

Super fijne rollator voor wat langere mensen.
Service van dit bedrijf is echt top!
Na een defect aan mijn rollator, heeft Mobinova kosteloos mijn rollator omgeruild voor een nieuw exemplaar.

dik tevreden met deze rollator, werd supersnel geleverd.

Mooie rollator en een goede koop. Is compleet en super handig

duidelijke informatie waar we wat aan hebben. Bedankt!
4.85

stars based on

7

reviews